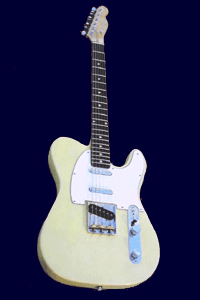 Welcome to Hamburguitar.com, a site dedicated to guitar players that expect more from their guitar. From the sonic tapestry it creates to its look and feel, Hamburguitar pays attention to the most subtle detail in creating your perfect guitar!

Hamburguitar.com has built guitars for such famous stars as George Harrison (Beatles), Mike Campbell (Tom Petty), and Carl Perkins.

Please feel free to look around at some of my work. I assure you everything is hand made and adheres to my stringent quality control.

Please don't hesitate to contact me if you have any questions!

-Bernie Hamburger
Las Vegas, Nevada
Phone 702.376.1121
hamburguitar@gmail.com