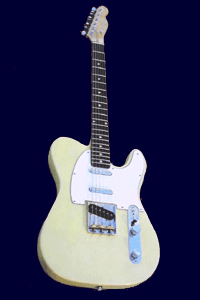 The following standard features are included in the base price:

Any pickup combination
Any configurartion of electric controls(volume, tone, switches, etc.)
Your choice of chrome, black, or gold hardware
Your choice of fretwire size - low, medium, or tall jumbo
Your choice of fret scale - 24 3/4" or 25 1/2"
Your choice of rosewood, ebony, or maple fingerboard
Your choice of bone, graphite, or micarta nut
Your choice of body shape
Your choice of abalone shell or pearl shell dot inlays
Your choice of color
Your choice of hand rubbed tung oil or lacquer finished neck
Your choice of glued in or bolted on neck
A hard shell case
Free Shipping in the continental USA
Unlike most other gutar builders, I won't charge more because you were born left handed and you need a left handed guitar
All included in the base price of $2450.00


Figured maple bookmatched top with binding - $250
Semi acoustic - with or without "F" holes - $300
Non locking tremolo system - $125
Locking tremolo system with locking nut - $250
Sperzel locking tuners - $100
Nine string option (please see below) - $175
Twelve string option - $200
Binding on fingerboard sides - $125
Binding on body per side - $125
Exotic or special wood - necks or bodies depend on availability, so please call for pricing.




My nine string feature consists of an octave string paired with the low "E", "A" and "D" strings. When you play chords with this feature it sounds like a twelve string guitar, giving the chords a strong full sound with added octave notes. However, it gives the player the freedom to "Bend" the three high strings for solo lead work. It gives the player the best of both worlds when deciding whether to use a six or twelve string guitar.


For those of you that are looking for something less expensive, may I suggest my NEW VINTAGE model. This guitar features a one piece mahogony body, a mahogony neck, two P-90(soapbar) pickups for that old vintage `50's and `60's tone, a Tune-o-matic bridge with stop tailpiece, 3-way toggle switch, volume and tone controls. The entire guitar has a hand rubbed tung oiled finish for a raw and natural look and feel. I price this guitar to go, for $1950.00 with case! A lacquered finish is available for an additional $200.00.


To place an order for your HAMBURGuitar, please send $500.00 (check or money order only please) to Bernie Hamburger, 10188 Cupid's Dart Street, Las Vegas, NV 89183.

IMPORTANT! Please make sure you enclose your exact shipping address and your phone number. This way we can keep in contact with each other during the construction of your new instrument. The $500.00 secures the agreement and also partially covers my expenses for the materials required to construct your new guitar. Upon completion of your guitar, I will then contact you, at that time you will send the balance due and then your guitar will be shipped insured via UPS parcel service to your front door. Depending on your location, you would recieve your HAMBURGuitar, in approximately five business days. From start to finish, your new guitar would take three months to build, of course that time may vary slightly depending on how many orders I am working on at that time. The longest anyone has ever waited for there new HAMBURGuitar, was four months. Please give me the chance to build your favorite guitar!

Thank you very much,
Bernie Hamburger
Las Vegas, NV
Phone: 702.260.9777
hamburguitar@coam.net